Your perfect fall dinner is here! These braised apple cider short ribs slowly cook in a rich, spiced sauce, resulting in the most tender, fall-off-the-bone meat. When only the coziest meal will do, you can't go wrong with these fall short ribs.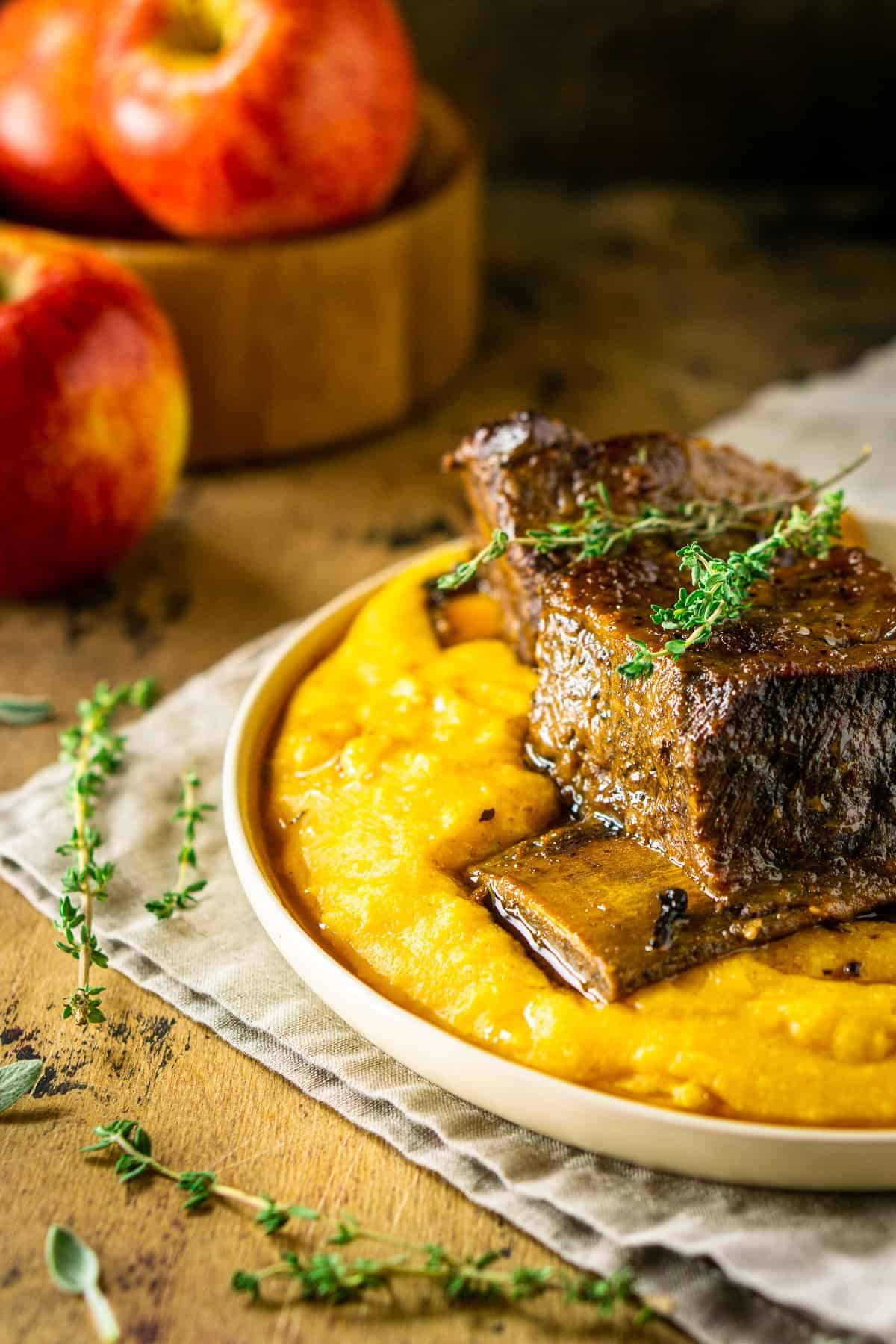 Have you ever braised meat in apple cider? If not, you're in for a treat. I love my apple cider pot roast so much that I thought it I needed to bring that same technique to short ribs, which are easily one of my favorite cuts of beef.
Braising beef in apple cider gives it a subtle spice that adds a complexity to this rich cut. This makes for one decadent meal that tastes like you spent hours prepping, but it can be our little secret that these short ribs don't require much fuss. Sure, short ribs take some time to cook, but most of the process requires no attention from you, and the preparation is simple. What could be better for entertaining than an easy yet impressive gourmet meal?
How to Braise Short Ribs in Oven
Let's start cooking. We first want to brown our short ribs to create a nice crust. To do this, we dust our short ribs with salt, pepper and flour and then cook them in hot oil in a Dutch oven. This should take about four to five minutes on each side.
Now we remove the short ribs, add some fresh garlic, pour in our apple cider and beef stock, and flavor the liquid with herbs and spices, which include sage, rosemary, thyme, cinnamon, cloves and allspice. Our short ribs go back into the Dutch oven, and we bring the mixture to a boil.
Short ribs are best cooked low and slow, so boiling ensures our beef has enough heat to properly cook in the oven. This is important, so don't skip this step.
Once our cooking liquid boils, we turn off the heat, cover the pot and place it in a 300-degree oven. I find short ribs need about three to three and a half hours to cook, but use this as a guideline. The short ribs are ready when they easily separate from the bone. I like to serve short ribs with the bone for a nicer presentation, so just give a rib a little tug to see if it easily separates but don't actually remove the meat.
And that's it! With little effort, you have a gourmet meal perfect for company.
How to Braise Short Ribs in Slow Cooker
You sure can. My favorite method is oven braising. Something magical happens to braised meat in an oven, but sometimes you can't always monitor the oven for three hours. In that case, the slow cooker is a good option.
To slow cook these short ribs, we still want to brown them on the stove. After browning, we throw the short ribs into the slow cooker with our apple cider and the rest of the ingredients and then cook on low.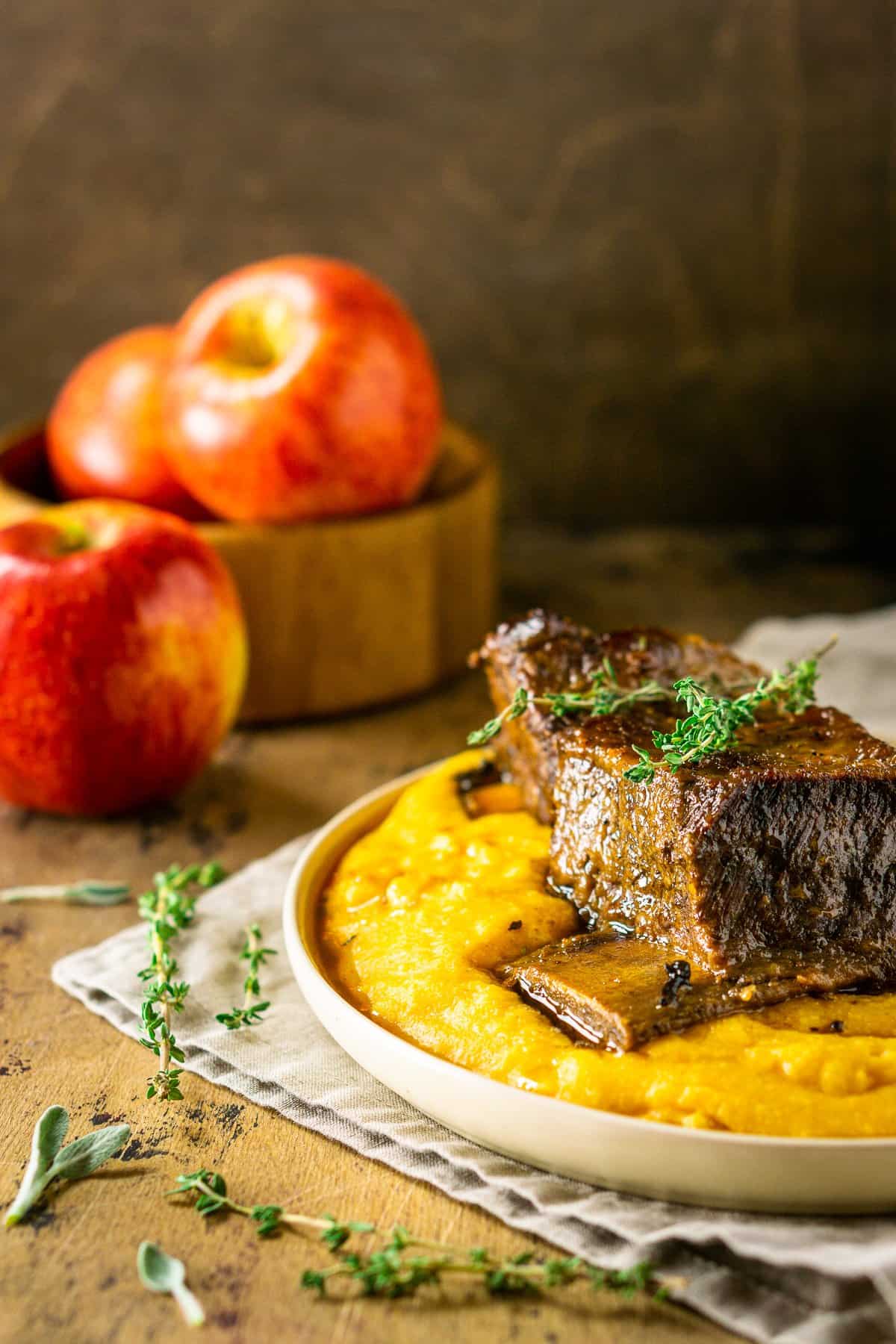 What to Serve With Short Ribs
With short ribs, I always love serving them on top of mashed potatoes or polenta. As pictured, I used polenta but not just any polenta. I made my pumpkin polenta with smoked gouda for an extra fun fall twist.
If you're more of a mashed potato person, you'll love my brown butter mashed potatoes recipe with these braised short ribs. I just adore the nutty, rich flavor the brown butter adds.
Best Cider for Short Ribs
For the cider, you are welcome to use any store-bought brand or my homemade apple cider. While my homemade apple cider isn't as sweet as store-brought brands unless you add more sugar, neither option gives you an overly sweet meat. With the beef stock, herbs and slow braising technique, the resulting short ribs take on a touch of spice, but those savory elements keep the short ribs from tasting too sweet.
While I haven't tested it, I bet a pear cider or hard cider would also be delicious. If you decide to try one of these alternatives, let me know how it goes!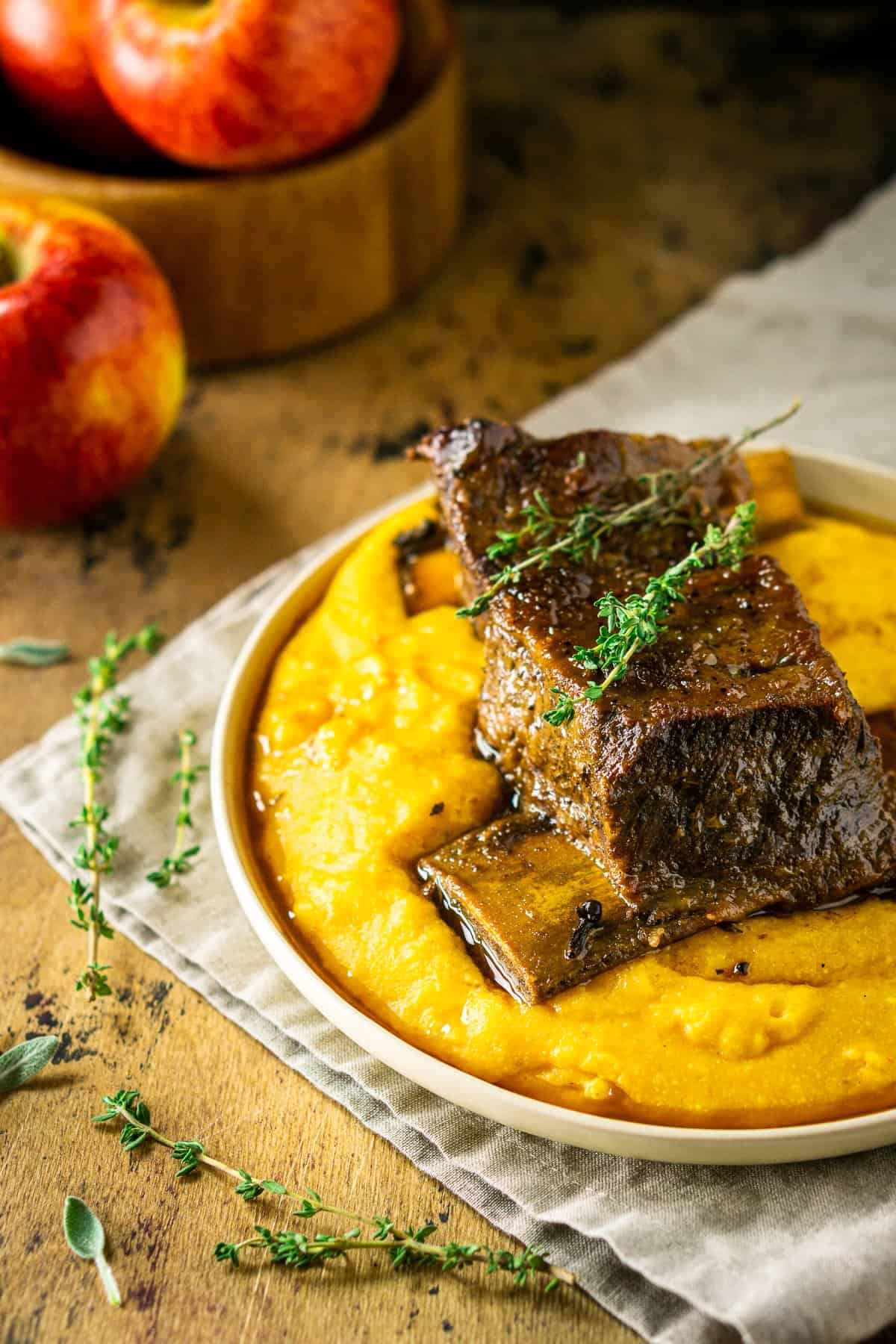 Can You Make Braised Short Ribs Ahead of Time?
Absolutely -- and that's one of the reasons I love short ribs for entertaining. Of course, once the short ribs go in the oven, you're done with the work, but sometimes you don't have the prep time on the day of entertaining. With short ribs, you can make everything up to three days before serving and simply reheat it on the stove with the sauce.
How to Use Leftover Short Ribs
While it's hard to imagine having leftover short ribs, we are talking about a hearty, filling meal, and it can happen. But don't worry. Those leftover short ribs mean you're in for some more tasty meals. Here are some of my favorite ways to use leftover short ribs as a topping or filling.
Pizza
Fancy grilled cheese
Tacos
Nachos
Quesadillas
Warm sub sandwich
Enchiladas
Crostini
Savory tarts
And these are just a few ideas. Let me know if you have any favorite ways to use leftover short ribs.
Perfect Pairing
Considering the warm spices in this dish, let's grab a Belgian dubbel. I love how the spicy yeast pairs with the apple cider, and it's a bold beer, which is great with hearty meals.
If you're craving a delicious wine pairing, try a medium- to full-bodied zinfandel. These bigger zinfandels can stand up to our beef dish, and they come with fruity, peppery notes to match the apple cider and spices.
Love your cocktails? Let's continue the apple cider theme with this apple cider old fashioned or gingered bourbon-apple cider cocktail.
For one cozy meal, I hope you try these braised apple cider short ribs. Please let me know how you enjoyed this recipe in the comment section and don't forget to sign up for my newsletter. You can also catch me on Instagram, Pinterest, Facebook and Twitter.
Cheers!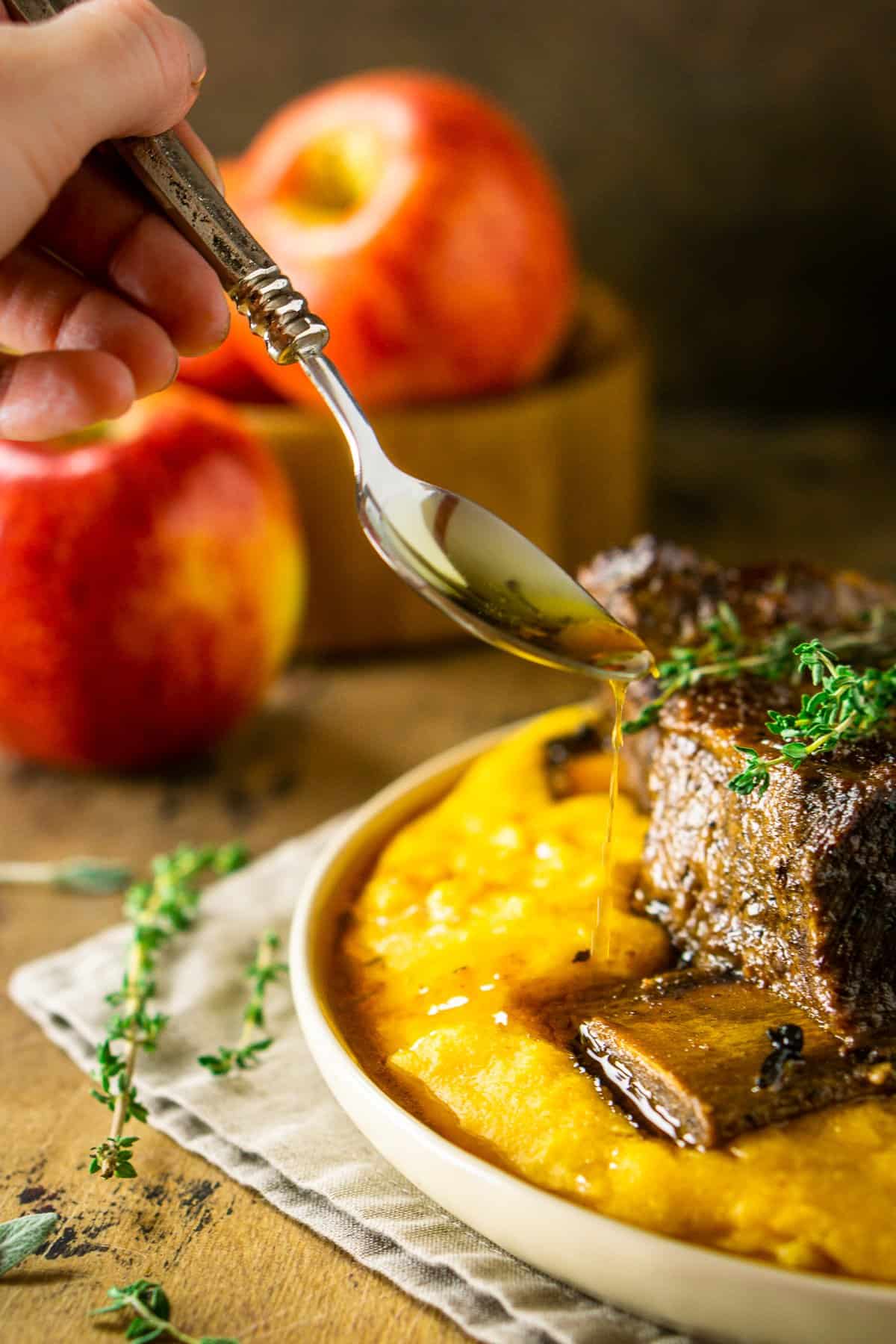 Looking for More Comfort Food?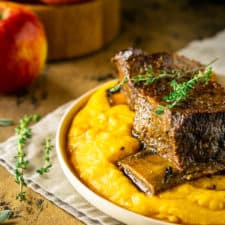 Braised Apple Cider Short Ribs
Your perfect fall dinner is here! These braised apple cider short ribs slowly cook in a rich, spiced sauce, resulting in the most tender, fall-off-the-bone meat. When only the coziest meal will do, you can't go wrong with these fall short ribs.
Print
Pin
Rate
Ingredients
8

short ribs

Salt and pepper

All-purpose flour

for dusting

2

tablespoons

olive oil

3

garlic cloves

minced or grated

2

cups

apple cider

homemade or store-bought

1

cup

beef stock

1

tablespoon

tomato paste

10

fresh thyme sprigs

3-5

fresh rosemary sprigs

2-3

fresh sage sprigs

2

cinnamon sticks

1

onion

sliced

½

tablespoon

whole cloves

Pinch of crushed red pepper
Instructions
Heat oven to 300 degrees. Generously sprinkle short ribs with salt and pepper and lightly  dust with flour. In a large Dutch oven, heat olive oil over medium-high until it shimmers. Without overcrowding the pan, brown about half of the short ribs on one side. Cook about four to five minutes, flip and repeat on the other side. Remove first batch of short ribs and repeat with the second batch. Transfer browned short ribs to a plate.

Reduce the heat to medium. Add garlic and cook for 30 seconds, stirring constantly. 

Pour in apple cider and beef stock, scrapping the bottom of the Dutch oven to deglaze. Stir in the tomato paste. Add the thyme, rosemary, sage, cinnamon sticks, onion slices, cloves and crushed red pepper. Place the short ribs back in the pot and bring to a boil. Cover and move to the oven.

In the oven, cook until short ribs are tender and shreddable and can easily be removed from the bone, about three to three and a half hours. Alternatively, you could cook the short ribs in a slow cooker on low for six to eight hours, though the oven is my favorite method. The Instant Pot is not recommended for best results. 

Once the short ribs are ready, serve immediately or refrigerate for up to three days. If refrigerating, scrape the layer of fat off the surface and reheat on the stove. Serve short ribs with sauce over pumpkin polenta or brown butter mashed potatoes. Enjoy!
Notes
The sauce will be thin after braising. You can drizzle it on top of the short ribs as is, but if you'd like to turn it into a thicker gravy, strain the sauce and reserve two cups. Melt 2 tablespoons butter over medium heat in a skillet. Whisk in 2 tablespoons flour and cook for about three minutes, whisking constantly. Slowly pour in the strained sauce. Whisk until smooth. Add a pinch of salt and continue to cook until thickened. This should take a few minutes.
For full tips, please see blog post.
Nutritional information is only an estimate. The accuracy of the nutritional information for any recipe on this site is not guaranteed.
Nutrition
Serving:
1
short rib
|
Calories:
580
kcal
|
Carbohydrates:
16
g
|
Protein:
30
g
|
Fat:
30
g
|
Cholesterol:
230
mg
|
Sodium:
1.08
mg
|
Sugar:
5
g