Wondering what to eat with baked beans to complement that quintessential summer dinner? Here, you'll find plenty of recipe inspiration. These dinner ideas are perfect with a big helping of baked beans, and you'll even find some of the best side dishes as well as bonus appetizers, drinks and desserts to make a complete meal.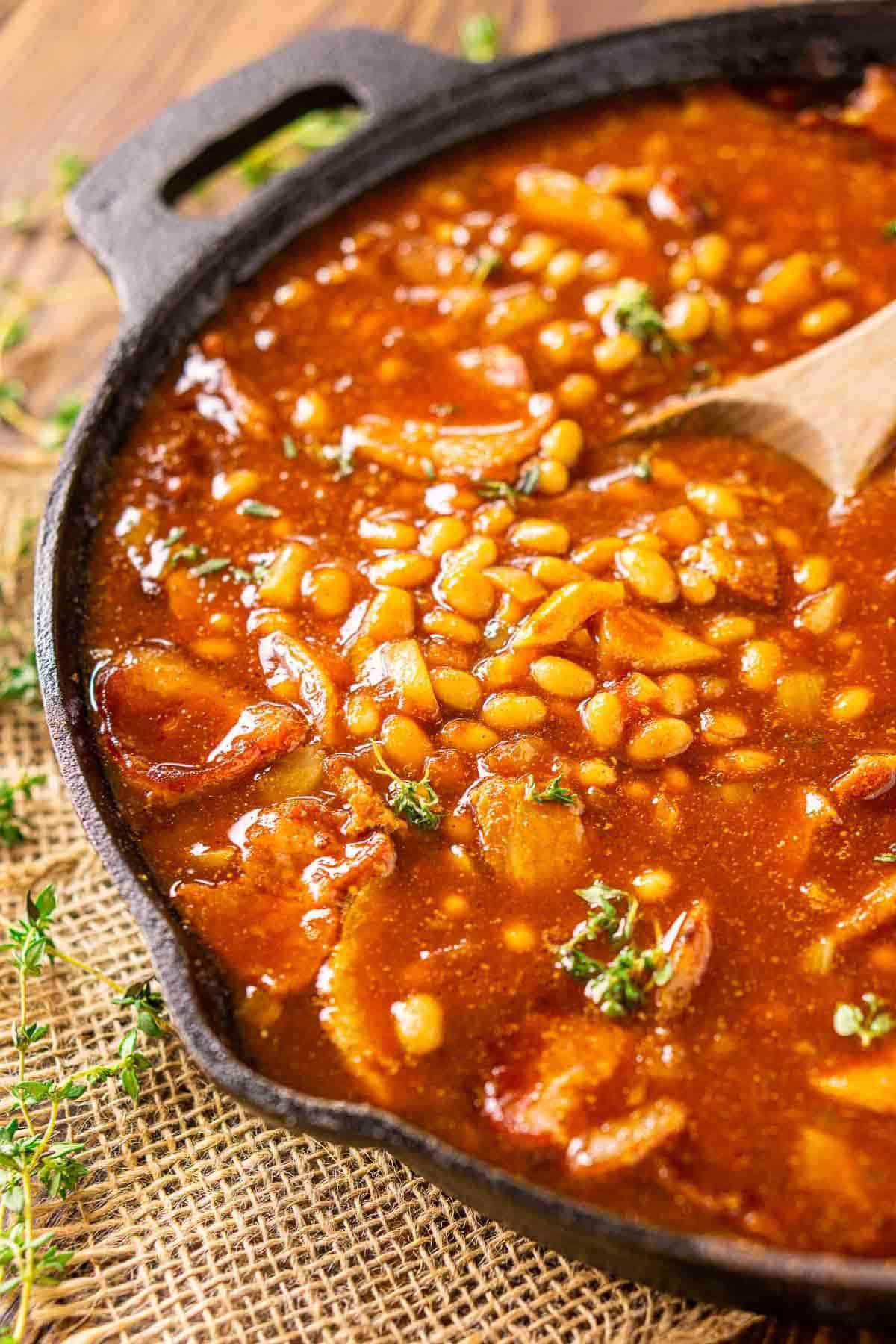 Jump to:
The Ultimate Baked Bean Recipe
Oh, boy. I have your perfect baked beans recipe that you'll want to make over and over again. When it comes to some of the best comfort foods, these baked beans are it.
So what makes this the best baked beans recipe? We cook this recipe in the smoker, which adds a layer of flavor with depth and complexity. That said, not everyone has a smoker, and they still taste delicious with a wonderfully savory flavor when baked in the oven.
Quick tip: If you do opt for baking as opposed to smoking, you can get that smoky flavor by adding a small amount of liquid smoke to taste. Keep in mind, a little goes a long way.
And then there's the bacon. We don't skimp here. Rather than tiny bacon bits, big chunks of everyone's favorite pork sits on top of these beans to deliver a serious flavor upgrade.
Let's also not forget the sauce, which stands far above other baked beans. With many recipes calling for BBQ sauce, a lot of people simply reach for a bottle of that store-bought stuff. Instead, we make a quick and easy BBQ sauce right in the skillet that's way better than anything you'd pick up at the store. We prepare this BBQ sauce with tomato sauce, tomato paste, brown sugar, Worcestershire sauce, apple cider vinegar, coffee, maple syrup, molasses, bourbon and a medley of spices for the perfect kick.
And now let's get into these favorite main courses and perfect side dishes to eat with your hearty baked beans.
Main Course Recipes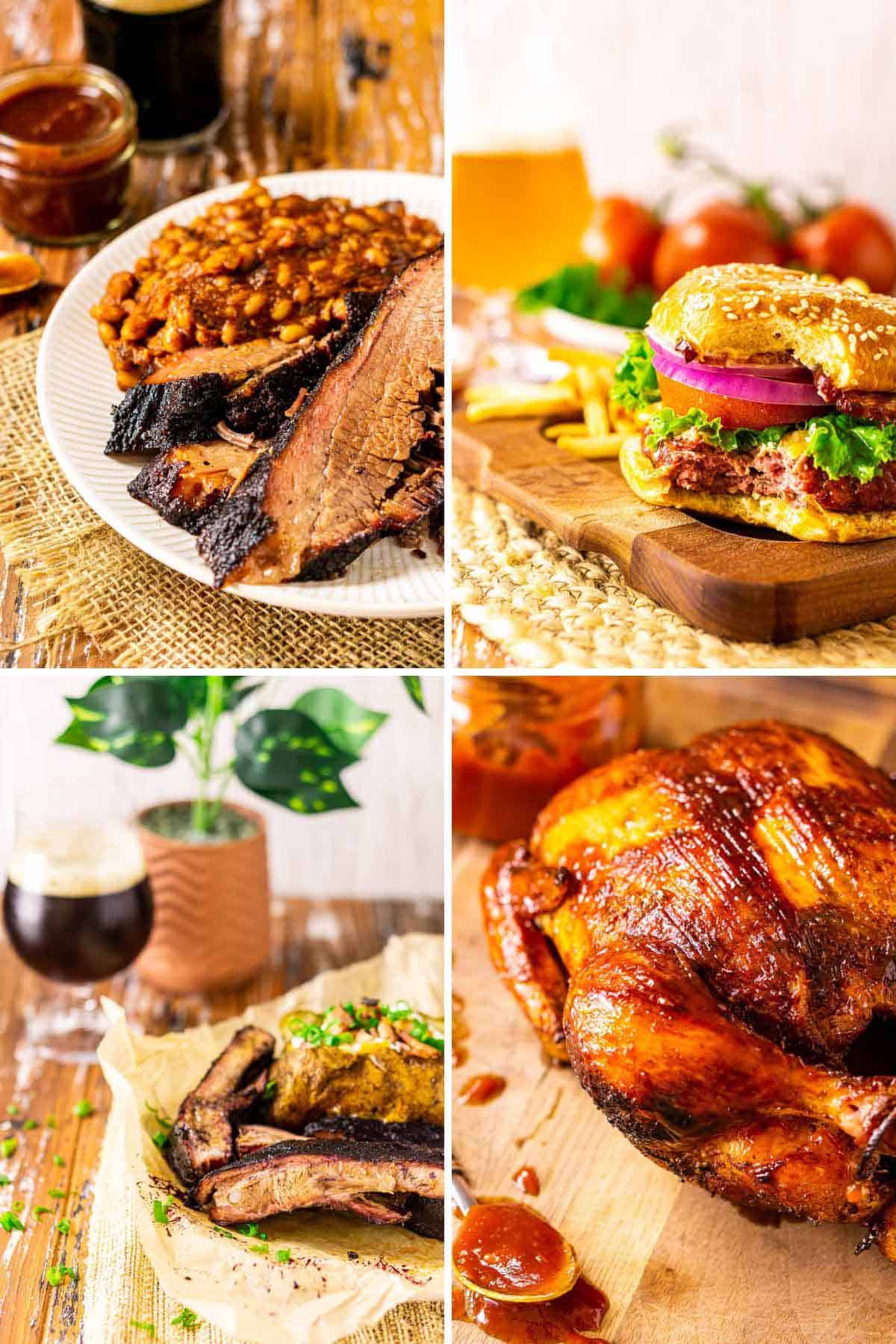 When you typically think of baked beans, an outdoor summer dinner is top of mind. Grilled and smoked meats are natural pairings for your main dishes. Is it even a brisket dinner without a side of baked beans? Let's not miss out on that classic combination to make one hearty meal.
But you don't have to stop there. You'll also love some classic comfort food, a good sandwich or sub, and even a certain summer pizza for something different.
Smoked Pellet Grill Brisket
Wagyu Burgers
Smoked Whole Chicken
Jamaican Jerk Chicken
Smoked Pellet Grill Ribs
Venison Burgers
Maple-Braised Turkey
Beer-Brined Schnitzel
Smoked Tri Tip
Jamaican Jerk Pork Shoulder
Smoked Chuck Roast
Cheddar-Apple Stuffed Chicken Thighs
Slow Cooker Guinness Corned Beef
Smoked Burgers
Salmon-Avocado Burgers
Cheeseburger Subs
Smoked Duck
Pulled Pork BBQ Pizza
Smoked Bratwurst
Minted Lamb Burgers
Buffalo Chicken Subs
Maine-Style Lobster Rolls
Smoked Spatchcock Chicken
Brie Grilled Cheese
Smoked Turkey Wings
Smoked Turkey Legs
Smoked Chicken Quarters
Smoked Chicken Breast
Additional main course ideas: hot dogs, pulled pork sandwich and grilled pork chops.
Side Dish Recipes
Of course, a big potluck isn't complete with just one side dish. Pasta salad, potato salad and other favorite side dishes are a must.
And even though baked beans typically mean summer barbecues, that doesn't mean we can't enjoy some hot side dishes as well. Is there any occasion that doesn't call for an ultra creamy mashed potato recipe? Let's agree that mashed potatoes are always a perfect side dish, no matter the circumstance or time of year.
Smoked Mac and Cheese
Crispy Mango-Habanero Wings
Smoked Mashed Potatoes
Sweet Potato Cornbread
Hawaiian Potato Salad
Pesto Tortellini Salad
Coconut-Lime Rice
Herbed Roasted Potato Salad
Bacon Macaroni Salad
Brown Butter Mashed Potatoes
Green Bean Casserole
Jalapeño Popper Cornbread
Truffle Egg Salad
Additional simple side dish ideas: a loaded baked potato, green salad with a creamy dressing, french fries, fresh veggies, mashed sweet potatoes and fresh fruit.
Bonus Recipes: Appetizers, Drinks and Desserts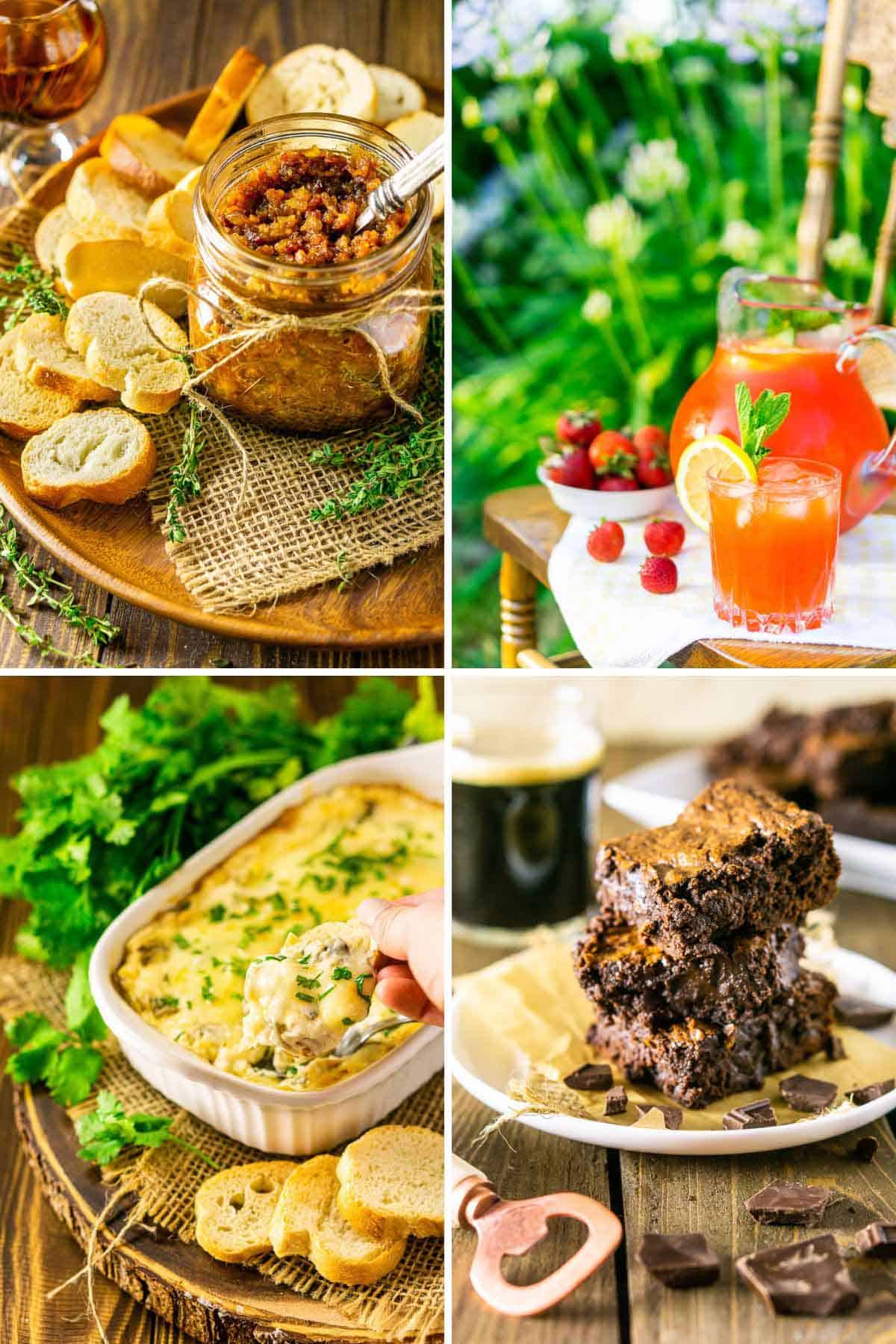 Of course, we can't have a complete summer meal without some good snacks, refreshments and sweet treats, right? Right. Whether you need that crowd-pleasing appetizer or a refreshing cocktail, these are tried and true recipes that are always favorites at my summer barbecues.
Appetizers
Drinks
Desserts
Expert Tips
As you prepare your baked beans, keep these tips in mind.
Make the beans a bit before serving and keep them warm in a slow cooker for easy entertaining.
Navy beans are traditional, but you are more than welcome to experiment with different beans. You could use other white beans, such as cannellini beans, or you could try pinto or black beans.
The leftovers are just as good. As long as you keep them in an airtight container in the refrigerator, this hearty dish should last three to four days. To reheat, simply warm through on the stove or even microwave.
And there you have it. Between these summer meals, side dishes, appetizers, drinks and desserts, you have the perfect combination of recipes you could ever need to go with a big batch of baked beans. Now enjoy each delicious recipe as you make your way through this list — your barbecues will be everyone's favorite summer party.
Cheers!
Please let me know how you enjoyed these recipes in the comment section and don't forget to sign up for my newsletter. You can also catch me on TikTok, Instagram, Pinterest, Facebook and Twitter.